About Donna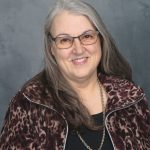 Currently she operates a one-person fabrication studio in Walton, Kentucky, just south of Cincinnati, Ohio.
Donna started her business in 1983, serving retail clients on a part time basis. Offering design, fabrication and installation services; convinced she could provide better service if she handled it all.
In 1988, it became apparent she was well suited for the fabrication and installation end of the business, but not so much the design. Her retail clients would now have to be their own designers.
Donna made it a full time venture the spring of 1991 when she found her first designer. The designer helped the clients select fabrics, trims, designs and hardware. The fabrics, trims and hardware would appear on Donna's door step and the design work orders were faxed in to create the treatments. She still installed most of the projects, which provided a great opportunity to take photos of her work.
In 1997 she went strictly wholesale or "to the trade". Now she had five designers. Installation was cutting into the fabrication time she needed. In1998 she stopped installing. This freed up extra time for fabrication and opened up time for other ventures.
Teaching was a dream that had found it's time. Cheryl Strickland had instructed Donna in 1993 at Cheryl's first workroom school in Annapolis, MD. In 2000 Cheryl invited Donna to teach at her Custom Home Furnishing Conference in Greenville, SC. Donna continues to provide teaching every year at conferences and added teaching at the Custom Home Furnishing School / Academy until 2010.
In 2009 Donna began hosting the "Hands on Experience" tour. This traveling event offers hands on classes for intermediate-advanced fabricators (workrooms) across the United States.
Recognizing that it is difficult for busy business owners and professionals to continue their education, Donna brings the instructors, equipment, supplies and all materials to each event location. All students create finished samples in each class that can be taken home. Limited class sizes make this weekend full of hands on classes a valuable experience. The class topics are selected with each local group's interests and recent industry issues in mind. Just contact Donna on this website contact page, email or call her.
Donna also offers Professional Fabrication Classes held in her studio located in Walton, KY. Private, two or three student classes on any topic can be arranged.
Now, Donna operates her one-person fabrication studio in her fully equipped 1300 sq. ft. studio office condominium. Still to the trade only, with three designers at present, she has created a niche for her business, fabricating the difficult to impossible treatments that no one else will. This niche has many advantages; not much competition; price shopping is difficult and close team work required. This team work helps forge the relationships which insure Donna's position as a valuable and necessary member of the design team.
No longer an instructor for the CHF Academy, Donna continues to be available as a WCAA / Association guest speaker, Host / Coordinator for the "Kentucky and Ohio Soft Furnishing and Workroom Professionals" and valuable member and passed officer of the Kentucky Workroom Association.
WCWA Weekend Academy Instructo
WFCP Master (Window Fashion Certified Professional)
American Sewing Guild Member
Kentucky Workroom Association Chapter past president/officer
Host of the "Hands on Experience" Tour