Welcome to My Studio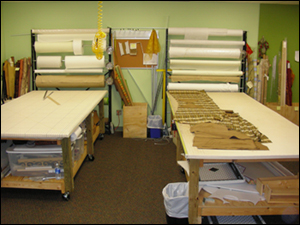 My husband and I built 4 tables ranging in length from six feet to twelve feet, all on casters. I often move them into different configurations to better fabricate my larger projects.
Two wall racks hold rolled goods at the end of the two largest tables eliminates extra heavy lifting .
---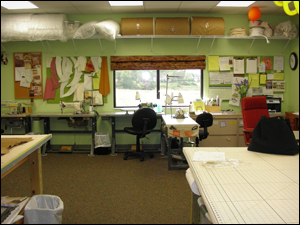 We installed a shelve above the window here to keep extra supplies like pillow inserts, poly batting, foam sheets and the like. Be sure to keep these item light in weight because you will eventually want to get them down!
Extra pinning board on the wall keep patterns for tie backs and other items quick to find.
---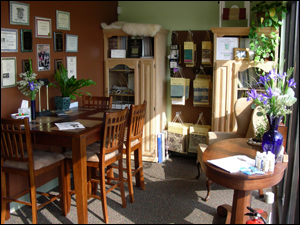 A separate meeting area to sit with clients was created. It provides a display area for all my certificates. A few fabric samples are available and all our industry reference books and manuals are stored in cabinets.
---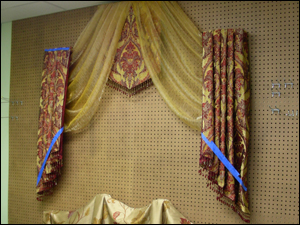 Providing a place to hang finished projects is very helpful. We added pegboard to keep projects wrinkle free as long as possible before they leave for installation.
---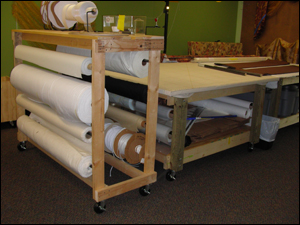 An additional roll rack was built from 2×4's to hold linings and welt cords. The rack is also on casters allowing it to be moved to tables or machines as needed.
---
If you would like the instructions for this lining roll rack on casters; please fill out the contact section and reference instructions.
I would be happy to email them to you.